Blog
Published on June 7th, 2013 | by Dipsology
0
Your Guide to Summer Cocktailing in NYC
One of the great joys of summer in the city is being able to imbibe outside, so here's our list of some of our favorite venues where you can not only enjoy the sunshine, but also drink great cocktails.
Best Rooftop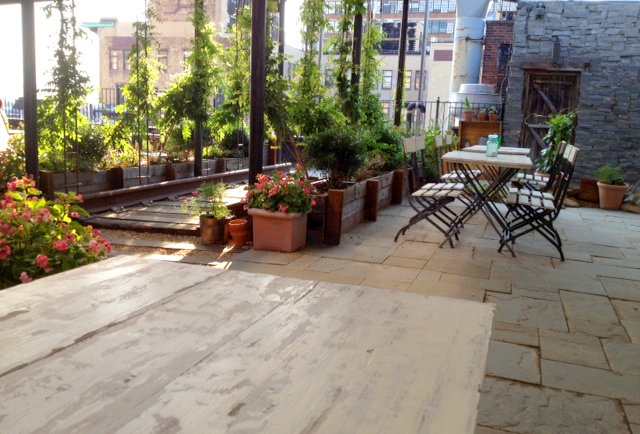 Gallow Green: We recently visited this train station cum rooftop garden for Campari's Bartender Bash and it is enchanting (pictured above and right).  We also love that you can make reservations, so you're sure to get a seat.  And if the weather is inclement, the romantic train cars downstairs aren't too shabby either. Reservations & more info.
Most Romantic Garden
Raines Law Room: We love Raines for so many reasons, and this garden is the cherry on top.  Strung up with fairy lights, nestled in behind the bar on 17th Street, it's the perfect place to take a date and hide out.  Check out RLR's full profile for more details.
Most Chill Garden
in Brooklyn: Ba'sik: Especially if they bring back their Sunday pool parties, because those were pretty great.  All around a chilled out place to grab a low key cocktail and hang out for an afternoon, and maybe order a cheese dog.  Plus, they do brunch!  Check out their official website for full information.
in Manhattan: Mulberry Project: In Little Italy. Grab a seat in their sprawling backyard (pictured below) and choose from a list of seasonal ingredients (think honeydew melon, strawberries & mint) and the bartender will whip something up just for you.  Plus, we hear there may be BBQing on weekends… Check out their Facebook page for more photos & news.
   
Best for Upscale Drinking
Lincoln Ristorante: Located in Lincoln Center, this is a great place for a pre- or post- theater or ballet drink (pictured above).  The food is fantastic too.  Our favorite is to indulge in the dedicated Negroni Menu, which allows you to mix and match from a range of gins, amaros and vermouths.  For summertime, we especially like mixing it up with Cardamaro and Cocchi Americano.  Official website.
Best for Oysters & Cocktails
Maison Premiere: No outdoor drinking list would be complete without this Williamsburg staple.  Check them out from 4-7pm on weekdays for $1 oyster happy hour, while enjoying a Mint Julep in their spacious backyard (pictured below).  Read their full profile & view menus.
Not Quite Outside but Almost
While not strictly speaking outdoor venues, Middle Branch and The Beagle both have large floor-to-ceiling windows that they throw open when the weather cooperates.  Great spots for watching the world go by on the sidewalk while you sit & relax with a drink.
Need more outdoor drinking inspiration?
And, as always, let us know if you've got a recommendation for our list!
Photograph: Paul Wagtouicz for TimeOut.